Hygiene therapy (GBT & EMS)
Our gums are the foundation of our teeth and smile. Therefore, it is important that we achieve and maintain our gum health. 

Hygiene therapy involves giving you the tips and tricks required for you to care for your gums at home. Often it is essential to remove hard deposits of calculus (tartar) from your teeth to allow optimal dental hygiene and health. Plaque, discolouration and stubborn stains can be removed using modern using airflow therapy, a combination of water, compressed air and fine powder particles. 
Our highly preventative, minimally invasive dental hygiene treatment is unlike traditional scaling and polishing as it is safe, gentle and relatively pain-free as it uses warm water. (The Piezon PS ultrasonic is very gentle and light in comparison to standard Ultrasonic scalers). The airflow treatment provided at Sunrise Dental Clinic is for natural teeth, restorations, orthodontic appliances and implants.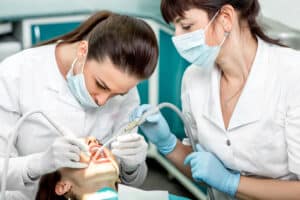 It is an 8 step process. The plus powder contains erythritol and is less abrasive than traditional mechanical debridement with rubber cups and brushes and removes biofilm, stains and early calculus as well as polishing in one single procedure.
If you are attending to see one of our lovely hygienists, please read The Guided Biofilm Therapy (GBT) Brochure. Enhance your oral health and restore the lustre of your smile with Airflow!
We also offer a monthly dental hygiene plan where you can choose from either 2 hygiene or 4 hygiene treatments per year. Prices start from £14/month and more details can be found here.