Life with Braces
After the braces/aligner are put on, there can be some aching of the teeth, mild painkillers such as paracetamol or ibuprofen can be used, if required. During and after braces/aligner treatments, some tweaks to your routines might be required to ensure braces/aligner/retainers do their job and your teeth are kept healthy. However, most of our patients find it really easy to adjust and many carry their new good habits forwards. If you are wearing braces/aligner/ retainer, please read the advices below. Please visit the British Orthodontic Society website (Looking after your Braces) to learn more. How to make the right choices? The answer in this video!
What Food Can I Eat?
Please do eat! Your diet should remain relatively the same with some small changes to ensure the braces are not damaged.
Dont's:
Bite into Hard foods such as apples, carrots, crusty bread. Please cut them into small pieces and chew them on your back teeth. • Nuts, just don't, they don't like braces and braces don't like them. • Chewing gum. Although they do not damage the braces, they do become entangled and are a nightmare to clean off. • Chocolate, sweets, fizzy drinks and acidic drinks should be reduced in their frequency and only a few times in the week, ideally with meals. If there is a breakage please call the practice / email. We will endeavour to repair the brace, however each breakage adds time to the overall treatment duration. Read the leaflets for more details:
Download PDF "Starting booklet for clear aligners therapy"
Download PDF "Starting booklet for fixed braces therapy"
Download PDF "What to expect at the first visit to our specialist orthodontic team"
Download PDF "Emergencies ‬booklet for fixed and clear aligners"‬
How Can I Brush with Braces/Aligners?
Your brushing technique requires modifying to accommodate the braces. Brush at least twice a day, ideally three times to ensure the teeth are kept in ideal health.
Use your normal toothbrush (electric or manual) to clean your teeth and braces.

Start above the brace (making contact with the brace, tooth and gum), then progress to beneath the brace (making contact with the brace and tip of the tooth), brush side to side.

Brush the remaining surfaces of your teeth as per normal.

Use toothpaste which has fluoride in it (most toothpastes contain fluoride).

WATCH THE VIDEO FOR MORE DETAILS. 
What Mouthwash Should I Use?
Use a fluoride mouthwash twice a day at least 60 minutes after brushing your teeth with fluoridated toothpaste.
*Please consult your dentist before using fluoridated products.
What Interdental Toothbrush  Should I use?
Use an interdental toothbrush to clean any remaining plaque off your teeth.

Concentrate on the areas between your gums, the brackets and underneath the wire.

WATCH THE VIDEO FOR MORE DETAILS.
Fact File & Fact
Please visit the British Orthodontic Society website (Fact File & FAQ) to learn more.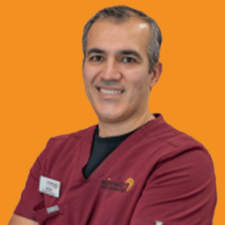 If you're looking for an orthodontist near me in Edinburgh, our specialist Orthodontist, Dr Mo Almuzian, has 20 years of experience. Dr Mo is passionate about basing his treatments on producing a healthy foundation with functional aesthetic orthodontic outcomes. All suggested treatment plans are based upon researched evidence and customised according to the difficulty and aesthetic result required.