Thanks to advances in orthodontic technology, Sunrise Dental Clinic can provide our patients with more options when it comes to wearing braces than ever before. While traditional metal braces are still widely used, clear braces are very popular with teens and adults who are self-conscious about wearing braces, along with Invisalign or Spark removable aligners, an easily removable alternative to straight teeth. Dr Mo will help you determine which treatment option is right for you.
Orthodontic Braces We Offer:
Fixed Metal Braces
What are they? 
Fixed braces consist of small brackets that are cemented to your teeth and joined together with wire.
How do they look?
Fixed braces consist of small brackets that are cemented to your teeth and joined together with wire.
How do they work?
Fixed braces move your teeth in a very precise manner, and are the most common type of brace used to treat children because they offer predictable results and they do not rely on patient compliance. Our specialist team uses fixed metal braces to address more complex orthodontic problems.
Traditional metal braces are still the most common type of braces used today.  They are smaller and more comfortable than ever before and constructed of high-grade metal alloys. With metal braces, you also have the option of adding colored elastics (rubber bands) for a more unique and colorful smile.

Fixed Ceramic Braces
What are they?
Ceramic braces are made of relatively clear material, therefore, less visible on your teeth than metal braces. While they are visually less prominent, they do require more attention to oral hygiene since ceramic braces are larger. One of the main drawbacks of ceramic brackets is that they are more fragile and the elastic ties can discolour between orthodontic visits with certain foods and smoking.
How do they look?
Fixed ceramic braces are tooth coloured and blend in with your natural teeth so they are an aesthetic fixed brace option. For this reason, ceramic braces are used mainly on teenage and adult patients with aesthetic concerns.
How do they work?
They are similar to metal fixed braces in the way they work. Ceramic braces are glued onto the teeth, a wire connects the ceramic braces together. Our specialist team uses the highest quality ceramic braces available to avoid breakages.

Clear Aligners
What are they?
You may have heard about 'invisible braces', they are what they say on the tin!
How do they look?
Clear appliances, such as Spark or Invisalign, use a series of invisible, removable, and comfortable aligners to straighten your teeth. Spark and Invisalign aligners are removable so you are not limited in what you can eat and drink during treatment. Plus… brushing and flossing are less of a hassle. The aligners are comfortable and have no metal to cause mouth abrasions during treatment. For more information, visit our Clear Aligner page.
How do they work?
The treatment is digitally planned by our specialist team prior to the start of treatment. You may require tooth coloured attachments placed on your teeth to help guide them into the correct position. You will receive a series of removable aligners that are custom made for your teeth and you will need to change them as instructed by our specialist team who will monitor your progress remotely and with regular visits to see us in the practice. Usually aligners are changed every 1-2 weeks and a whole treatment can take 6-18 months, but this depends on many factors. You will need to wear a clear retainer (similar to the clear aligner) to maintain the results of your orthodontic treatment.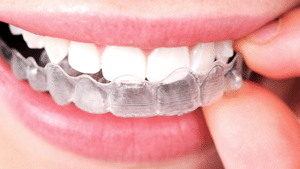 Lingual Orthodontics
What are they?
Lingual braces are fixed braces behind the teeth as opposed to the front. They are not seen as they are straightening teeth. Lingual braces are the invisible alternative for patients who don't want to wear braces or when Invisalign is not an option. Placed behind your teeth, no one will know that you are wearing braces unless you tell them.
How do they look?
Lingual braces are custom made for your teeth. They are glued behind the teeth, and a wire connects the lingual braces together.
How do they work?
Lingual braces are tightened every 4-8 weeks to ensure teeth continue to move into position. These unique braces are created using state-of-the-art technology and are 100% customised to the shape of your teeth and dental situation. Lingual braces have a unique prescription that Dr Mo creates for you, built-in to ensure you get the results that you want. With lingual braces, you get efficient, effective tooth movement with great aesthetics.
For more information, visit our Lingual Braces page.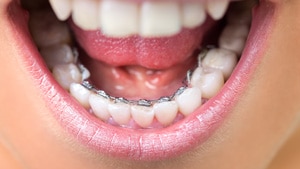 Removable Braces
What are they?
Removable braces clip over your teeth and can be taken out for eating, teeth cleaning, sport or for playing a musical instrument. They are mainly used for children.
How do they look?
They usually consists of pink acrylic with strategically placed wires that fit over your teeth.
How do they work?
They can be used to treat crowding or misalignment, and can sometimes be worn by patients who still have some primary (milk) teeth. They can be used to address a simple single tooth in crossbite or more complex crossbites involving expansion of the jaws.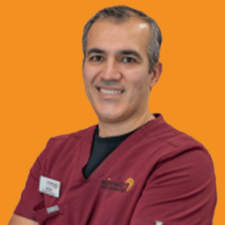 If you're looking for an orthodontist near me in Edinburgh, our specialist Orthodontist, Dr Mo Almuzian, has 20 years of experience. Dr Mo is passionate about basing his treatments on producing a healthy foundation with functional aesthetic orthodontic outcomes. All suggested treatment plans are based upon researched evidence and customised according to the difficulty and aesthetic result required.